THE STORY
The Château Jolys story starts back in the Sixties when Pierre-Yves Latrille fell in love with the property. Enchanted by this magnificent site in the foothills of the Pyrenees, he undertook to transform this fallow land into the 32 hectare estate it is today, one of the finest of the Jurançon appellation. In 2012, his granddaughters Camille and Claire joined forces with him, bringing with them their energy, ideas and projects. Camille is in charge of the business and marketing side of things, while Claire looks after the vineyards and the winemaking.
THE TERROIR

Located south of Pau, the Jurançon appellation stretches over 1300 hectares of vineyards, planted on slopes facing the Pyrenees. The soil is siliceous-clayey, with lots of round pebbles (called Poudingues). The appellation being close to both the ocean and the mountains the climate is cool and damp, which suits the local grapes – Petit Manseng & Gros Manseng – down to the ground. These grapes produce magnificent dry white wines, as well as great sweet wines, thanks to a warm wind called the Foëhn, which comes from Spain in Autumn and enables passerillage (drying of the grapes on the vine to concentrate sugar). These wines have a unique sugar/acidity balance and have earned their place among the finest sweet wines.
THE SPIRIT

With their 32 hectare vineyard and ultra modern vinification cellars, Château Jolys is one of the leading producers in the Jurançon appellation. Hand harvesting is essential here, because the grape 'passerillé' is fragile, and needs to be handled with care from the vineyard to the tank. At Château Jolys, harvest starts at the end of September and can sometimes go on until January!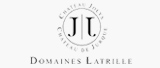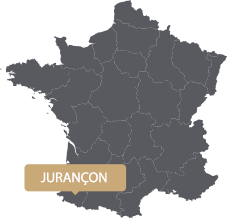 FOUNDED IN : 1960
OWNER :
Famille Latrille

SIZE :
32 hectares

APPELLATIONS :
Jurançon

GRAPE VARIETIES :
Petit Manseng & Gros Manseng

VITICULTURE :
Sustainable farming
THE WINES