Accents & Terroirs is the shared export department of several winegrowers, driven by the
common aim of promoting their regions, wines & spirits throughout the world. They embarked upon this ambitious enterprise in 2000, and have never looked back – their wines are to be found in over 60 countries, on every continent… and the story goes on !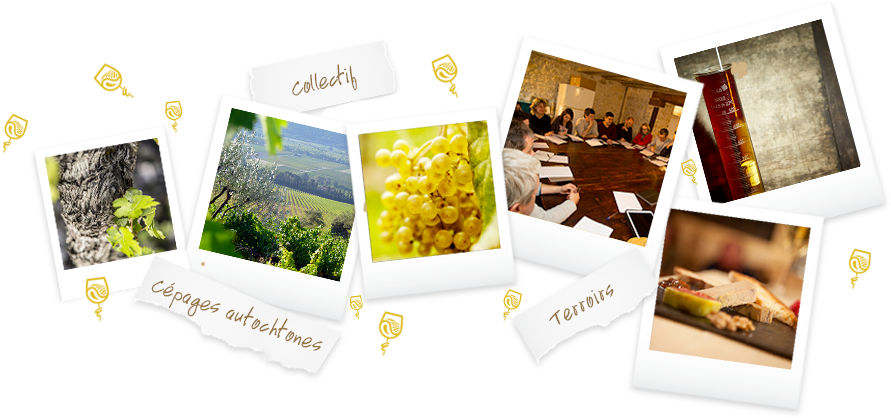 A group of people, bound by many things in common :
Family run estates passionate, exuberant, visionary and endearing members s
mall appellations that, because of their size, are by and large unknown to the general public. But as we know, good goods come in small parcels !
Their terroirs are a treasure to those who choose the road less travelled by (in terms of wine, of course !). 
Local grape varieties (Malbec, Petit Manseng, Tannat, Braucol, Baco, Muscadelle Petit Grain, Marselan, Grenache, Syrah…), and wines that show them in their best light.
 A taste for teamwork, good food & wine and… rugby !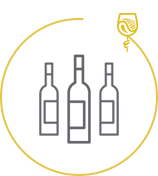 For the quality, diversity and originality of our range
To the importers we work with, our wines and spirits represent an opportunity to bring something original to their range, giving them something different to show their customers ; wines that are authentic, full of character yet elegant and accessible.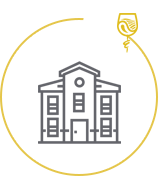 Local distribution network
Here at Accents & Terroirs, we're not JUST an export sales office to our partners ; we work hand in hand with them and are heavily involved in defining and implementing their commercial & marketing strategies. As with any partnership, this works both ways and our winegrowers are frequently at our side as we promote their wines.
Our partners' wines & spirits are shipped directly from each estate, in order to ensure they are stored for as long as possible in the best possible conditions.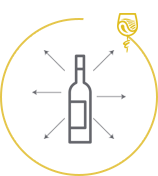 Export expertise
Exporting wines and spirits is what we do best.
We travel throughout the world meeting importers, nurturing existing partnerships and building new ones. It's important that we share the esteem in which we hold these men and women, their regions, their wonderful wines & spirits.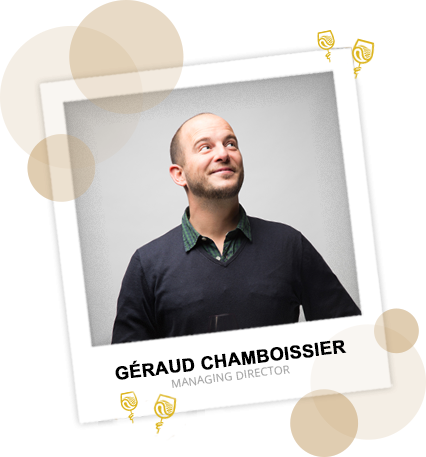 Carol
« His chirpy 'Good morning, coffee anyone?' gets my working day off to a good start. From Australia to Brazil via le tour du Béarn (his annual road race), he brings his good humour and curiosity everywhere. On the rare occasions that he's not travelling or looking after his three mini-mes, Géraud can be found on the beach……surfs up! »
Stéphanie
« THE sporty one in the team… mountain bike, surf, pala… and now gardening ! Looking forward to tasting the tomatoes from his vegetable patch. Que suerte ! ».
Mylène
« Géraud is always in a good mood, enjoys his job (and his attention to detail is legendary !). As considerate as he is pragmatic in his manner and the way he deals with projects, Géraud is a veritable goldmine of advice and his command of wine tasting is impressive. He's always fun to be with, be it for work or simply enjoying a glass of good wine.»
Maxime
« A mine of information, prompt to answer my questions and make suggestions, Géraud is a pleasure to know and inspires confidence. Son experience and expertise are a great source of help to me on a daily basis. »
Géraud
« I wish I was as fluent in English as she is in French. Serious, meticulous and always in a good mood, we get on well, with the added bonus that she gives me tips for my vegetable garden ».
Stéphanie
« She's from Ireland and I'm from South Western France, but it seems we sound the same, because people mix us up over the phone  – go figure! Carol's someone you can count on in any situation ».
Mylène
« Considerate, good-natured and a good listener, Carol is versatile and as devoted to us, her colleagues, as she is to her job. Her Irish twinkle and slight brogue brighten our working day. »
Maxime
« Dynamic, open, considerate and efficient…..and all with a smile! It's great to be able to benefit from her long experience in the company. »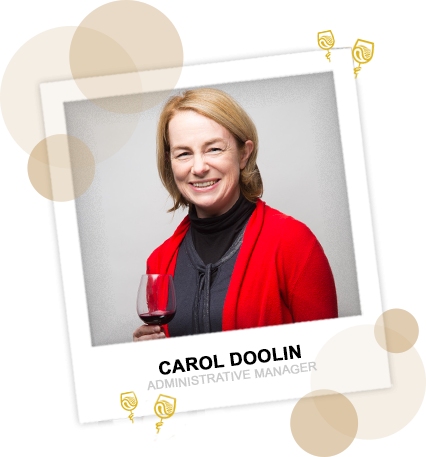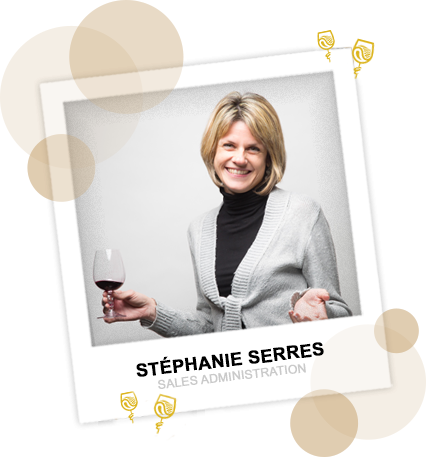 Géraud
« EAD, Excises, VAT, invoices… she's on the administrative front line and aren't we lucky! Thanks Stef ! ».
Carol
« Stef is my other half in the office and as with any double act, trust, sincerity and good humour are essential…and Stef ticks all the boxes! Hardworking and efficient, she also runs a mean marathon whenever she gets a chance »
Mylène
« Stéphanie is super-efficient and, just like the elephant, never forgets ! She's a pillar of our team, as efficient in her job as she is when running a marathon. She's the link between us and our clients and partners and makes our job a lot easier ! »
Maxime
« Dynamic and kind, Stéphanie is the hard drive of the sales team, with all the customer information – samples, orders, etc – stored in her memory……she has the answer to all our questions – efficiency embodied! »
Géraud
« The newest addition to the team!
Mylène recently joined Accents & Terroirs after several years working in the wine industry and is now proudly flying the flag for our partner winegrowers. Gourmet, dynamic, curious, and enthusiastic, you'll surely meet her soon, maybe in Chicago, Amsterdam, Warsaw…….»
Carol
« Mylène, the latest addition to the Accents family
Yesterday the States, today Belgium, tomorrow the Netherlands….watch out for Mylène on your travels!
Loire Valley, where Mylène hails from
Electric bike – Mylenes favourite way of getting around Bordeaux
Never without her surfboard when the sun shines
Enthusiastic about (amongst other things!) wine, wine and wine…and armagnac! »
Stéphanie
« Mylène joined Accents & Terroirs a few months ago, bringing her smile and sparkle with her. She very quickly fit right in and looks forward to showing you the wines from our lovely regions. »
Maxime
« Mylene is my other half in Bordeaux. Hardworking and passionate about wine, her experience and all round knowledge are of precious help to me. »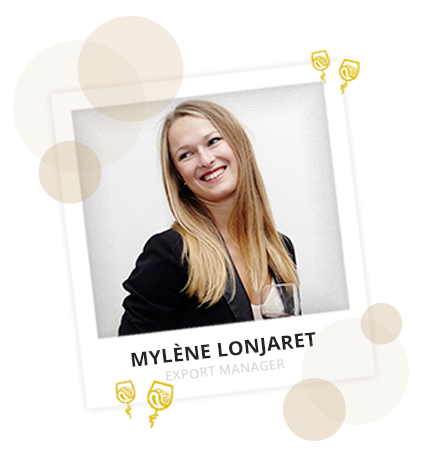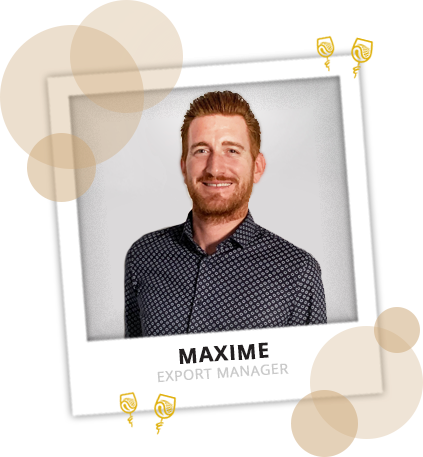 Géraud
« Born and bred in the Loire Valley, Maxime joined us in June 2021, with a sound experience of the world of wine under his belt, having worked in Cambodia and Australia. An experience and open mindedness that suits us right down to the ground – welcome to the team Maxime! »
Carol
« Maxime, the latest addition to the Accents family, hails from the Loire Valley but actually caught his love for the world of wine in Australia. Dynamic & determined, Maxime is part time tennis player, part time deep sea diver, full time Accents team member! »
Stéphanie
« Presenting Maxime, the new baby of the Accents family! Of a sunny disposition, he has fit right into the team and shows us every day his determination and perfectionism. We catch a glimpse of Australia and Cambodia with the stories he tells of his faraway travels. You're sure to meet him soon! »
Mylène
« Maxime joined the team in June 2021, after a rich experience in Cambodia. He brings to Accents & Terroirs his energy and determination and shares our common goal: promoting with pride and dedication our partner winegrowers and their wonderful wines and spirits. »