THE STORY
The Verhaeghe vineyards were founded in the 1950's by Léon Verhaeghe, who had moved to the Lot region from his native Belgium a few years previously. Charles Verhaeghe, his son, was a sort of pioneer in that he planted vines on the poor stony soils of the Cahors appellation, at a time when everyone else was mass producing wines on fertile plains. The first Château du Cèdre wines were sold in 1973. Pascal and Jean-Marc, who run the estate since 1988, have continued in the same vein and have perfected the approach, with their meticulous work in the vineyard and the cellar making this estate the unchallenged leader of the Cahors appellation for the last 30 years.
THE TERROIR

The vineyards' 3 parcels are made up of the 2 best types of soil in the Cahors appellation : the larger one (13 hectares) is situated on colluvial limestone soils. This very stony, limestone/clayey terroir produces straightforward wines with fine tannins, particularly long on the palate. Both other parcels (6 & 8 hectares) have pebbles mixed with ferruginous sand on the surface and siliceous earth and clay beneath. The wines they produce are rich and powerful. Equidistant from the Atlantic and the Mediterranean, there is a dual climate in Cahors : Oceanic until June, it becomes Mediterranean in July, making for a perfect balance between acidity and maturity.
THE SPIRIT

The Château du Cèdre vineyards have been tended in accordance with an organic approach since 2000 and the estate was certified organic in 2012. The Malbec grape makes unique wines. Thriving on the great Chateau du Cèdre terroir and pampered by the meticulous approach of the Verhaeghe brothers, long ageing periods in oak barrels and 57HL casks, it gives birth to wines with floral (violet) and black fruit aromas, wines that are dense, long and particularly elegant.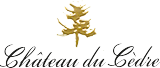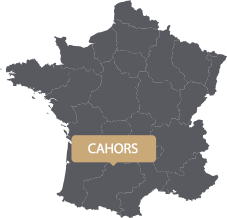 FOUNDED IN : 1973
OWNERS :
Jean-Marc & Pascal Verhaeghe

SIZE :
27 hectares

APPELLATIONS :
Cahors

GRAPE VARIETIES :
Malbec, Merlot, Tannat, Viognier, Sémillon, Sauvignon

VITICULTURE :
Certified organic since 2012



THE WINES