THE STORY
The Molinié family has been living in the village of Carnac-Rouffiac since the 14th century and is inextricably linked to the local vineyards and winemaking traditions. In 1998, having obtained his diploma in viticulture & oenology, Matthieu Molinié took over the family estate. His partner Virginie obtained the same diploma and joined him 2 years later. Today their estate covers 28 hectares of vineyards in the Cahors appellation, with vines that are on average 25 years old. They are ably assisted in the vineyard & the cellar by Pascal Verhaeghe (Château du Cèdre, one of the leading estates of the Cahors appellation), who helps them fine tune the vinifica-
tion & ageing of their wines. Definitely an up and coming estate in the area!
THE TERROIR

The different Château Ponzac wines show the diversity of the terroirs on the estate: 'Maintenant ou Jamais!' with its marl/limestone soil, Château Ponzac and its limestone/clayey soil, Le Temperadou and its ferruginous clay and last but not least, Les Peyrières, from the second terrace with its pebbly clayey soil.
Equidistant from the Atlantic Ocean and the Mediterranean Sea, Cahors benefits from a dual climate: Oceanic until the month of June, it gently morphs to a Mediterranean climate in July, thus ensuring perfect balance between acidity and maturity in the vineyard.
THE SPIRIT

Rigorous and intensive work is carried out both in the vineyards & in the cellar to ensure the quality of the Château Ponzac wines: yield mana-gement, leaf thinning, different parcels of vines vinified separately… The cool nights enjoyed by the Château Ponzac vineyards, from their ideal location on the Cahors plateau, help confer an original style on their wines : medium bodied yet fresh and long on the palate, they are a vibrant expression of dark berry fruit.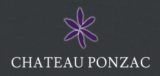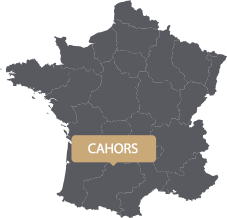 FOUNDED IN : 1998
OWNER :
Matthieu & Virginie Molinié

SIZE :
28 hectares

APPELLATIONS :
Cahors

GRAPE VARIETIES :
Malbec, Merlot

VITICULTURE :
Certified Organic since 2021



THE WINES