THE STORY
Clos du Caillou was originally a 17 hectare, walled hunting reserve, which straddled the communes of Courthzeon and Châteauneuf-du- Pape. When government experts came to visit the estate in 1936 with a view to including it in the new appellation of Châteauneuf-du- Pape, the owner was absent and the experts were met by armed gamekeepers who wouldn't let them in! This explains why the Clos wasn't classified in the Châteauneuf appellation. The Pouizin family bought it in 1956, cleared the land, replacing forest with vineyards and soon enough, the Clos du Caillou estate began to make a name for itself. In 1995, Sylvie Vacheron, Claude Pouizins' daughter, took over the estate, which now covers 54 hectares and is one of the leading estates of the appellation.
THE TERROIR

Ideally situated in the village of Courthézon, to the north east of the appellation, the estate is composed of 9 hectares of vines that come under the Châteauneuf-du- Pape appellation and 44 hectares under the Côtes-du- Rhône appellation. The climate, as befits the south of France, is warm and dry with the Mistral wind ever present. Two types of soil make up the terroir at the estate: a sandy, loamy subsoil, which brings finesse to the wines and pebbly surface soil on the slopes, which stores the days heat and makes for elegant yet powerful wines.
THE SPIRIT

The estate was certified organic in 2010, but at Clos du Caillou Syvie they have been organically farming the vines since 2000. The grapes are hand harvested, depending on their stage of maturity and sorted before being brought to the wine cellar. The different varieties are vinified separately so as to take into account the character specific to each. Fermentation gets underway naturally thanks to the indigenous yeastson the grapes. The wines are aged in tanks, oak barrels and tuns in the estates' underground cellar, which was hollowed out of the rock and is thus naturally cool.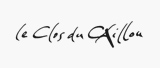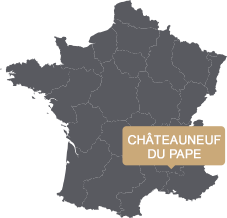 FOUNDED IN : 1895
OWNER :
Sylvie Vacheron

SIZE :
70 hectares

APPELLATIONS :
Côtes-du-Rhône et Châteauneuf-du-Pape

GRAPE VARIETIES :
Grenache, mourvèdre, syrah, cinsault, carignan, counoise, vaccarése, viognier, roussanne, clairette (rose et blanche), bourboulenc et grenache blanc

VITICULTURE :
Certified Organic
THE WINES