THE STORY
It all began back in 1963, when Primo de Conti, whose parents emigrated from Italy in the 20's, bought some land with his wife Odette in the little village of St Julien d'Eymet, 20km south of Bergerac. He planted several hectares of vines, cereals and also had some cattle (polyculture was widespread in the region at the time). In 1990, their son Francis took over and decided to merge his vineyard with that of his cousin Luc and became his partner in Château Tour des Gendres in Ribagnac. His son Guillaume joined him in 2011, followed by his second son Paul in 2013 and in 2017, Yann Lecoindre as cellarmaster. Five years on and this trio of 'youngsters' have decided to breathe new life into Primo de Contis home village of St Julien d'Eymet. They've taken over Francis' vineyard and created Domaine Albert de Conti!
THE TERROIR

The terroir of this 30 hectare vineyard is made up of limestone-clayey and silty clayey soils. The oldest vines were planted by Albert in 1966, and the eponymous parcel (la Vigne d'Albert) is an original combination of a multitude of native grape varieties.
The vines have been farmed organically for many years now and the team hope to go even further by using certain biodynamic and agroforestry methods, in order to restore and strengthen the natural balance of the land.
THE SPIRIT

The current range is composed of several signature wines, from the emblematic 'Cuvée des Conti' to the more recent 'Pet Nat', a delicious, crisp bubbly.
While Guillaume, Paul & Yann wish to continue with the range, they also want to introduce new savours and stories. Two new grape varieties, as yet unknown in the appellation, were planted in Springtime 2022……and that's just the beginning !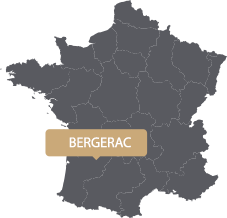 ESTABLISHED : 2022
OWNER :
Guillaume & Paul de Conti, Yann Lecoindre

SURFACE AREA :
30 hectares

APPELLATION :
Bergerac, Côtes de Bergerac, Vin de France, IGP Périgord

GRAPE VARIETIES :
Sémillon, Sauvignon blanc, Muscadelle, Chenin, Merlot, Cabernet Sauvignon, Cabernet Franc, Malbec, Périgord Noir, Fer Servadou, Abouriou, Mondeuse, Etraire de la dhuy

FARMING METHOD :
Certified organic