THE STORY
Domaine Laougué, in the Gers region, belongs to the Dabadie family, who for many years carried out mixed farming. When Pierre Dabadie took over from his father in the eighties, he decided to specialise in wine production : he extended the vineyards, built a new cellar and evolved toward more modern growing and winemaking methods, so as to create wines that were more elegant and whose taste bore the stamp of the estate. Today, his son Sylvain runs Domaine Laougué and is driven by the idea of making his appellation and native grape varieties even better known and appreciated than they are today.
THE TERROIR

The 27 hectares of the estate are made up of a patchwork of soils : southfacing slopes of pebbly limestone clay, clay with gravelly subsoil (dry and easily drained), silty clay (at the bottom of the slopes) and pebbly red clay (North facing parcel). The climate in the Madiran region is Oceanic, with mild winters and hot summers. Rainfall (important for the vines) occurs essentially in Spring and Autumn. The radiant Summer sunshine, along with a few Summer showers, ensure that the grapes are perfectly ripe.
THE SPIRIT

Through his use of different parcels to create single plot cuvées, Sylvain aim is to produce original, finely tuned, delicious wines. Vinification is gentle and natural (natural yeasts and no sulphites), ageing is carried out in tanks for the fruity wines and in 500L barrels for the high end/premium cuvées. The estate started the process of conversion to organic farming in 2020.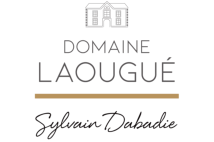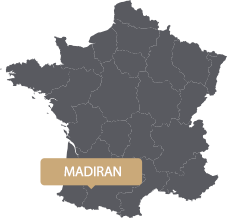 CREATED IN : 1985
OWNER :
Sylvain Dabadie

SURFACE AREA :
27 hectares

APPELLATIONS :
Vins de France, Pacherenc du Vic Bilh, Madiran

GRAPES VARIETIES :
Gros Manseng, Petit Manseng, Courbu, Cabernet Franc, Tannat

TYPE OF FARMING :
Conversion to organic farming in 2020