THE STORY
Le Clos du Caillou est à l'origine un vrai clos de dix-sept hectares ceint d'un mur de pierre, aux limites de la commune de Courthézon et de Châteauneuf-du- Pape. Lorsque les experts voulurent visiter la propriété en 1936, année du classement des terres en AOC Châteauneuf-du- Pape, on leur refusa l'accès au domaine qui était alors une réserve de chasse. Les experts, sans visite des lieux ne classèrent donc pas le Clos dans l'appellation. La famille Pouizin s'y installe en 1956 et entreprend des travaux de déboisement et de replantation des vignes, le Clos du Caillou commence à se faire connaître. En 1995, c'est Sylvie Vacheron, fille de Claude Pouizin, qui reprend en main le domaine qui s'étend aujourd'hui sur 54 hectares et est devenu une référence sur son appellation. Clos du Caillou was originally a 17 hectare, walled hunting reserve, which straddled the communes of Courthzeon and Châteauneuf-du- Pape. When government experts came to visit the estate in 1936 with a view to including it in the new appellation of Châteauneuf-du- Pape, the owner was absent and the experts were met by armed gamekeepers who wouldn't let them in! This explains why the Clos wasn't classified in the Châteauneuf appellation. The Pouizin family bought it in 1956, cleared the land, replacing forest with vineyards and soon enough, the Clos du Caillou estate began to make a name for itself. In 1995, Sylvie Vacheron, Claude Pouizins' daughter, took over the estate, which now covers 54 hectares and is one of the leading estates of the appellation.
THE TERROIR

Idéalement situé au Nord-Est de l'appellation, sur la commune de Courthézon, le vignoble est composé de 9 hectares de vignes en appellation Châteauneuf-du- Pape et 44 hectares en appellation Côtes-du- Rhône. Bercé par le Mistral, le Clos du Caillou bénéficie d'un climat méridional chaud et sec accompagné d'une grande luminosité. Ideally situated in the village of Courthézon, to the north east of the appellation, the estate is composed of 9 hectares of vines that come under the Châteauneuf-du- Pape appellation and 44 hectares under the Côtes-du- Rhône appellation. The climate, as befits the south of France, is warm and dry with the Mistral wind ever present. Le terroir est divisé en deux types de sols : un terroir de sable sur un sous-sol marneux, très précoce, qui apporte finesse et élégance aux vins, et un terroir de galets roulés en coteaux qui emmagasinent la chaleur de la journée, la restituent pendant la nuit et donne des vins puissants et racés Two types of soil make up the terroir at the estate: a sandy, loamy subsoil, which brings finesse to the wines and pebbly surface soil on the slopes, which stores the days heat and makes for elegant yet powerful wines.
THE SPIRIT

Les sols sont travaillés par des labours réguliers, sans herbicide ni produits de synthèse. Le domaine travaille en agriculture biologique depuis les années 2000 et est certifié depuis 2010. Les raisins sont récoltés manuellement, au gré des maturités et triés avant leur arrivée en cave. Les cépages sont vinifiés séparément afin de respecter leur caractère propre, la fermentation s'enclenche naturellement par les levures indigènes présentes sur les raisins. L'élevage des vins se fait en cuve, foudres et fûts de chêne dans la cave souterraine du domaine, creusée dans le safre et tempérée naturellement. The estate was certified organic in 2010, but at Clos du Caillou Syvie they have been organically farming the vines since 2000. The grapes are hand harvested, depending on their stage of maturity and sorted before being brought to the wine cellar. The different varieties are vinified separately so as to take into account the character specific to each. Fermentation gets underway naturally thanks to the indigenous yeastson the grapes. The wines are aged in tanks, oak barrels and tuns in the estates' underground cellar, which was hollowed out of the rock and is thus naturally cool.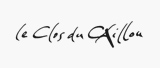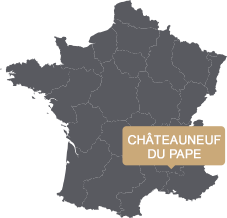 FOUNDED IN : 1895
OWNER :
Sylvie Vacheron

SIZE :
70 hectares

APPELLATIONS :
Côtes-du-Rhône et Châteauneuf-du-Pape

GRAPE VARIETIES :
Grenache, mourvèdre, syrah, cinsault, carignan, counoise, vaccarése, viognier, roussanne, clairette (rose et blanche), bourboulenc et grenache blanc

VITICULTURE :
Certified Organic
THE WINES