THE STORY
The story of Château Tour des Gendres began back in the 1920's when Vincenzo de Conti left Italy with his wife and children and bought a farm in South Western France. In 1980, their grandson Luc, who had spent several years as a horse trainer, decided to devote himself to his other great passion, winemaking. There were already vines on part of the land belonging to the family, but they had been neglected for many years. Luc took charge, restructured the vineyard and planted more vines. When his cousin Francis joined him in 1990, bringing with him 20 hectares, the total surface of the vineyard came to 49 hectares. The Château Tour des Gendres wines became known throughout France and abroad and the estate was hailed as a forerunner in organic farming, as they have been using organic methods since 1994. The estate is considered one of the best in the Bergerac appellation.
THE TERROIR

The Tour des Gendres vineyard is made up of 3 parcels with distinctive soil types : Les Gendres : calcareous/clay on Monbazillac loam, lots of limestone. Le Grand Caillou : calcareous/clay on Castillon loam. Saint Julien : calcareous/clay and silt/clay. As far as the climate is concerned, there is both an Oceanic and Continental influence in the Bergerac region. After a cold Winter during which the vine rests, the warm, rainy Spring and hot sunny summer make for ideal conditions for the grapes to mature.
THE SPIRIT

Turning toward organic farming was Luc de Conti's idea : " I wanted to restore a natural balance. I felt that I would be able to produce wines with more character… I wanted to be able to look beyond the immediate future and ensure my family and myself had a better way of life. With organic farming, we've discovered a lot about Mother Nature's inbuilt mechanisms, become aware of the fact that we are simply part of a whole, unique and indivisible.
Not a day goes by that we don't observe the benefits of organic farming on our vines, our wines and our environment ". Francis and Luc gear the winemaking process to the cuvee they want to produce: it could be a fruity or a crispy wine, a wine with good ageing potential, a wine made with discovery in mind, be it of one single grape variety or one single parcel… they blend and age depending on the terroir, the grapes and what
they want to achieve.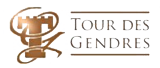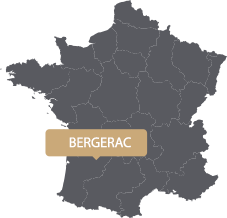 FOUNDED IN :          1980
OWNERS :
Luc & Francis de Conti

SURFACE AREA :
49 hectares

APPELLATIONS :
Bergerac

GRAPE VARIETIES :
Merlot, Cabernet, Sauvignon et Franc, Malbec, Sauvignon Blanc, Sémillon, Muscadelle

FARMING METHODE :
Certified organic since 2009



THE WINES