THE STORY
For many years, the family run Clos Lapeyre was given over to mixed farming (livestock, fruit and grapes for the local wine-growers cooperative), until Jean-Bernard Larrieu (3 rd generation), having recently graduated with a degree in viticulture/oenology, took over. From 1985 on the estate specialized in winegrowing, with Jean-Bernand tending his vines, vinifying his grapes, ageing, bottling and selling his wines……Clos Lapeyre was born! From 10 hectares in 2000, the estate now covers 17, with the acquisition in 2004 of a wonderful old 7 ha parcel of vines.
THE TERROIR

Clos Lapeyre is situated south of Pau, nestling on steep slopes facing the Pyrenees.
The vineyard, planted on terraces at between 350 & 400 metres altitude, is mainly composed of Petit and Gros Manseng grapes: native to the area and very high maintenance!
The soil is silty clay on the puddingstones so typical of the Jurançon region.
The dual influence of the Pyrenees (25km away) and the Atlantic Ocean (100km away) regulates the temperatures and the difference between nocturnal and diurnal temperatures (due to the altitude) encourages the slow maturation of the grapes.
THE SPIRIT

We aim to produce healthy, expressive wines that are the true reflection of our terroir. There is very little intervention during vinification (we believe that wine is made in the vineyard!) : stainless steel tanks for the younger, fruity wines and 500 L vats and foudres for the plot by plot wines.
Every year we produce 6 or 7 white wines, both dry and sweet, each of which tells the story of its creation: the 'exposition', the age of the vines, the grape variety, date of harvest…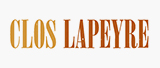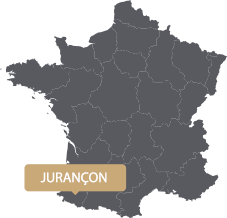 FOUNDED IN : 1998
OWNER :
Jean Bernard Larrieu

SIZE :
17 hectares

APPELLATIONS :
Jurançon

GRAPE VARIETIES :
Gros Manseng, Petit Manseng, Courbu, Camaralet

VITICULTURE :
Organic since 2005



THE WINES